Hi lovely readers. It's Jamie from So Much Better With Age back again with another awesome tutorial. This one involves sewing but is really easy.
I love these door draft blockers but I don't need it for drafts, I need it to block out LIGHT for my kids' bedrooms.
I'll show you how easy it is to make your own.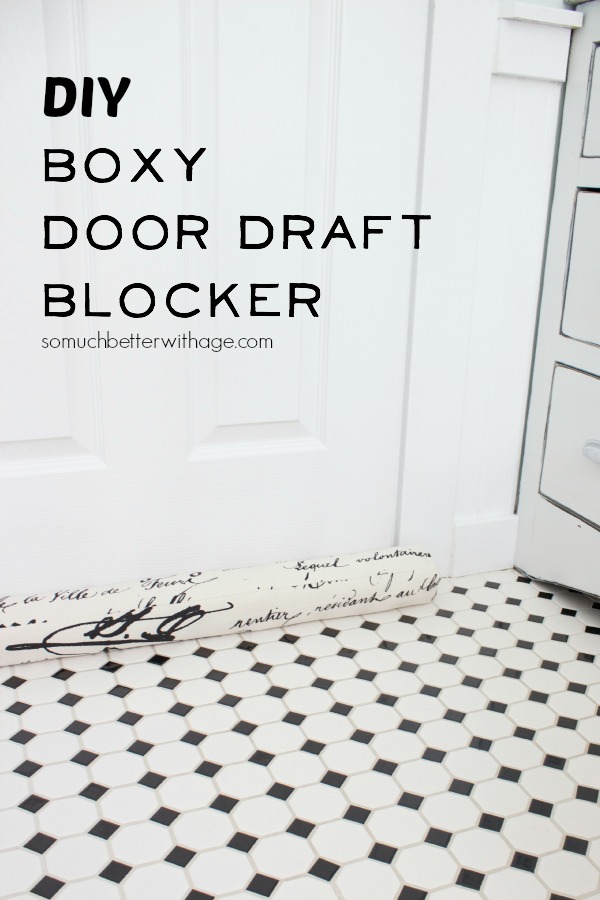 My kids can be light sleepers. That's why I made blackout curtains for their bedrooms. It needs to be quiet and dark and they'll sleep 11-12 hours at night.
Both of their bedrooms are off the foyer so it can be very bright in the morning and at bedtime in the summer.
I found that by blocking the light coming from under the door helped a lot.
It even helps with sound.
The thing is using this pink rolled up blanket that I've had since a child isn't the greatest looking.
So I made my own.
SUPPLIES:
sewing machine
fabric – 4 pieces cut length of your door (plus 1 inch) x 3″
fabric – 2 pieces cut 3″x 3″
cotton batting
dry beans or lentils
iron & ironing board
scissors
TUTORIAL:
1. First sew the four pieces of fabric together along the long sides.
2. Press the seams down with a hot iron.
3. Sew the two long sides together with the print facing in.
4. Sew one of the small square pieces to the end with the fabric facing in. Sew the opposite end just three sides.
5. Turn right side out. Fill about 1/4 with dry beans. Lay the fabric on the floor and evenly spread out beans along bottom.
6. Stuff with cotton batting on top of beans using a long ruler to push the cotton to the end and shuffle the beans around the bottom so they try to stay evenly put.
7. Hand sew the last edge of end in place.
I love that it's boxy and fits in the door jam perfectly!
Of course the fabric is a little French 😉
No more light getting in now.
Don't you love a DIY project that is pretty yet practical?

See more…