I am so excited to share my hallway makeover reveal in the #newyearnewroomchallenge. After years of our hallway just being  a pass through area; it's finally something really pretty! It's dramatic and moody and I love it. It's funny because I grew up in the 80's where everything was brown and swore I would never paint anything brown again, yet here I am. Now I know this isn't going to be the hallway for everyone, because it's so dark but I love how different it feels. The best part is the hallway makeover is mostly paint, so when I get tired of it being so dark I can just paint over it! After this though I will admit that small hallways are hard to photograph. I had a challenge in how to share it best with you. For better close ups and details there is a video along with this post.
This post contains affiliate links. See our sponsor and affiliate link disclosure here
If you remember my mood board for the space, I was mostly able to stick to it. The one big change I made was the last minute wall color, and I didn't know if I was being brave or totally crazy.
Shop: Runner rug / Light / Small Arch Mirror / Large Arch Mirror / Artwork / Door Knobs / Flexible Trim
Originally I was going to do a landscape mural on the wall over the trim area, but as I was closer to the end I had the weird and crazy desire to go really dark and instead paint the hallway a deep, dark chocolate brown color instead. I don't know why, but it was stuck in my head. I was a little nervous about it, but decided I needed to take the risk.
Can you paint a small hallway a dark color? Dark brown wall paint can make a room feel cozy and moody at the same time if you have bright light sources
After painting the doors Universal Black by Benjamin Moore, I painted the walls above the white trim Bittersweet Chocolate brown, which when it was still wet looked like a yummy forbidden liquid chocolate lol. Once it dried, it became a dark, somber brown. I'll admit, it is really dark, but really rich and moody feeling.
I finally finished some unfinished trim, and to add to the elegance of the hallway and bring in more sources of light I added two more modern mirrors which changed the entire area! One dilemma I had to solve was when I added the original trim years ago was that I cut the trim around the mirror figuring it was great for now and one day my future self would have to deal with it if I ever changed it. Well, flash forward to now and my future self now has to deal with it. After going through several different ideas, I came across a flexible, adhesive molding. It was the perfect solution to add some interest and solve the trim problem! I painted in the area between the mirror and the trim and made it looked like it was planned that way. One day if I want to change mirrors again, my future self will have to deal with it again.
The rug runner I added feels really warm and inviting. With the background a lighter shade against the colorful pattern, it really helps add lightness to the hallway with the dark wall color.
Door knobs are like jewelry for the doors and can instantly transform them and elevate them
One thing that I was so glad we did was change out the door knobs. They have instantly elevated our 30+ year old builders grade, hollow-core flat panel doors! I still have to change out the two closets and bathroom doors, but the three bedrooms are done and I love how modern they feel. I really loved these knobs from Schoolhouse, but they were way out of our price range. Luckily I found some that were really similar on Myknobs.com . The knobs I picked also had a square rosette backplate which really made them look more substantial and look so good against the black doors!
Here's a peek at the before hallway as a reminder:
While the hallway makeover is mostly done, I still would love to do some kind of wallpaper looking mural and add crown molding.I ran out of time, and room makeovers take time. I love the results so far, and of course I will share with you any changes I keep making in the future! Make sure to follow the other creators who have also made over and refreshed their spaces for 2023.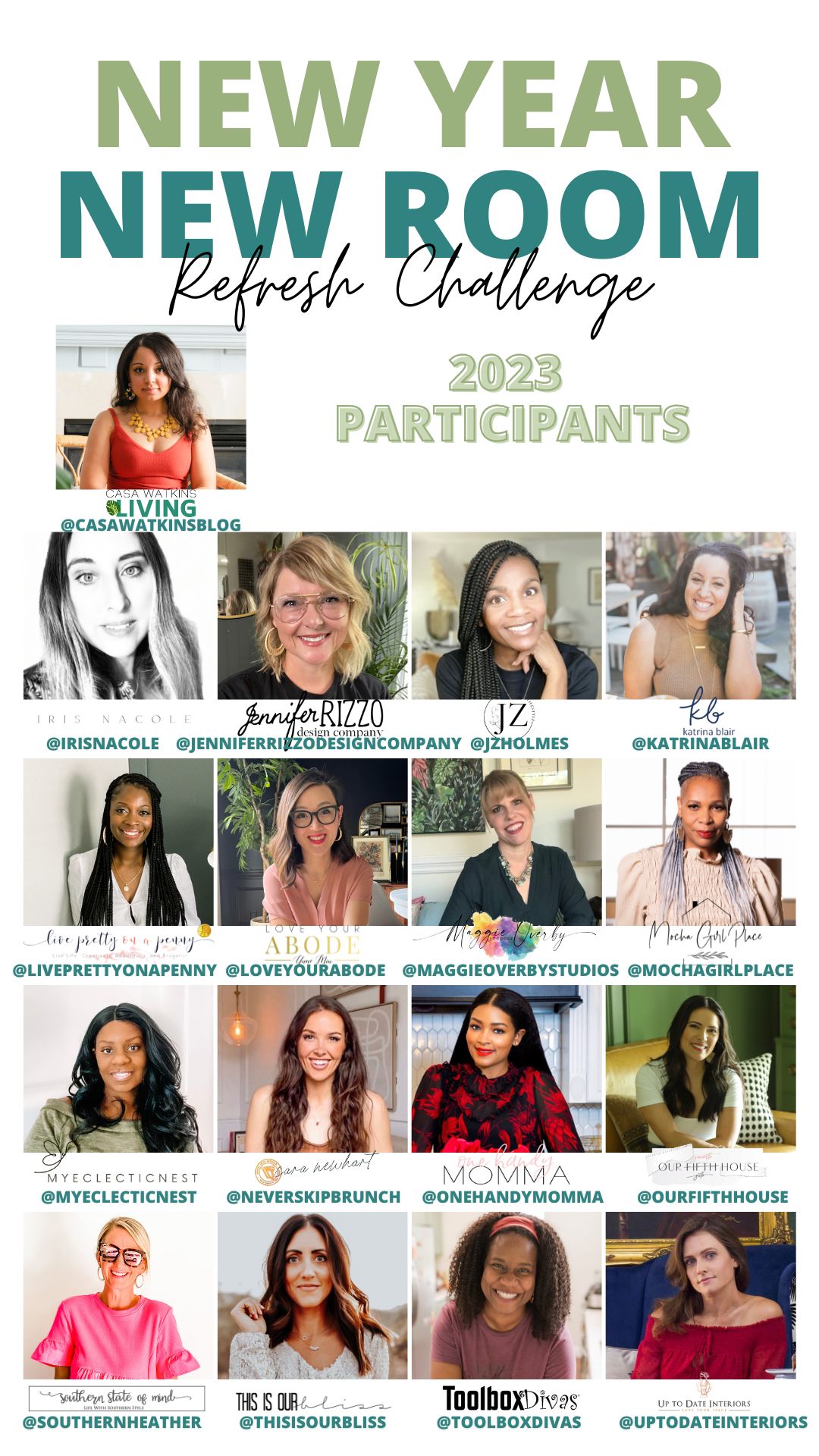 Casa Watkins Living // Iris Nacole // Jennifer Rizzo // JZ Holmes // Katrina Blair // Live Pretty On A Penny // Love Your Abode // Maggie Overby Studios // Mocha Girl Place // My Eclectic Nest // Never Skip Brunch // One Handy Momma // Our Fifth House // Southern State of Mind // This Is Our Bliss // Tool Box Divas // Up To Date Interiors