How to make bright and colorful twine wrapped Easter eggs…..
Hi everyone, Jamie here from So Much Better With Age back with another fun project to share with you.Twine wrapped Easter eggs.
Today I wanted to share a quick and fun Easter craft. I love seeing how other bloggers are decorating their eggs for Easter so I thought I'd do a creative take on it as well.
I have so many different craft supplies so I just used what I had on hand. Hopefully you can find something on hand to use as well. You can use twine like I used or even scraps of old fabric, scrapbook paper, the ideas are endless!
These eggs are definitely colorful and fun!
The supplies are pretty easy. Like I said, perhaps you have these at home already if you're a crafter like me 😉
SUPPLIES:
eggs (hardboiled or egg white and yolks blown out)
twine (I used hemp twine with variegated colors)
spray glue
white glue or Mod Podge
scissors
TUTORIAL:
1. Prepare eggs. I hardboiled my eggs but now I'm wishing I poked tiny holes at the top and bottom of the egg and blew out the insides as I want to keep them for next year!
2. Use a spray adhesive glue like the Krylon one I used. Spray entire egg over newspaper and wait 20 seconds or so. Start wrapping twine around close to the bottom. Continuously wrap the egg until you get to the top.
3. Put a dab of white glue or Mod Podge at the top, cut off twine and poke end bit down. Hold in place for about 10 seconds so it really sticks.
4. Go back to the bottom end, spray adhesive glue, and wrap twine until you reach the end and dab with glue. I found it easier to start in the middle as opposed to the very end.
Didn't they turn out cute? I love the different colors in this hemp twine I had on hand. One egg uses just one long piece of twine. So cool!
If anyone knows me, they know I'm a neutral loving girl! But with Easter eggs I thought it would be fun to go colorful!
I had tons of fun taking photos of them throughout different lighted areas of my house.
They look so different in different rooms.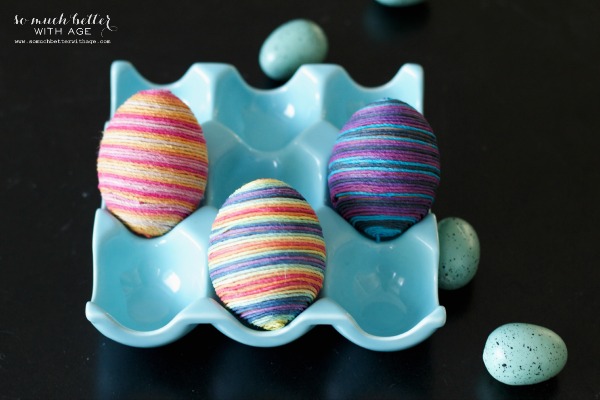 Yep, another room. Don't they look gorgeous against all the white?!
Hello spring flowers.
Don't you want to make some of your own twine wrapped Easter eggs now?

You might also like to see:
How To Make A Ruffled Tablecloth
Jamie Lundstrom
DIY blogger {French & Vintage Decor}
somuchbetterwithage.com
Facebook
Twitter
Pinterest
Instagram