How to make a DIY gold leaf mirror…..
Hi everyone, it's Jamie again from So Much Better With Age. Before I begin with this month's project, I must apologize for something.
As a monthly contributor for Jennifer Rizzo.com, I try to think of a great DIY project or craft that you, the reader, will enjoy.
Then sometimes the time comes around to actually make that project and it all falls apart.
But guess what? The best part about epic fails is that epic fails turn into a thing of beauty (at least I hope they do!)
Because today's post was…you guessed it…
 an epic fail turn into something amazing with a DIY gold leaf mirror makeover!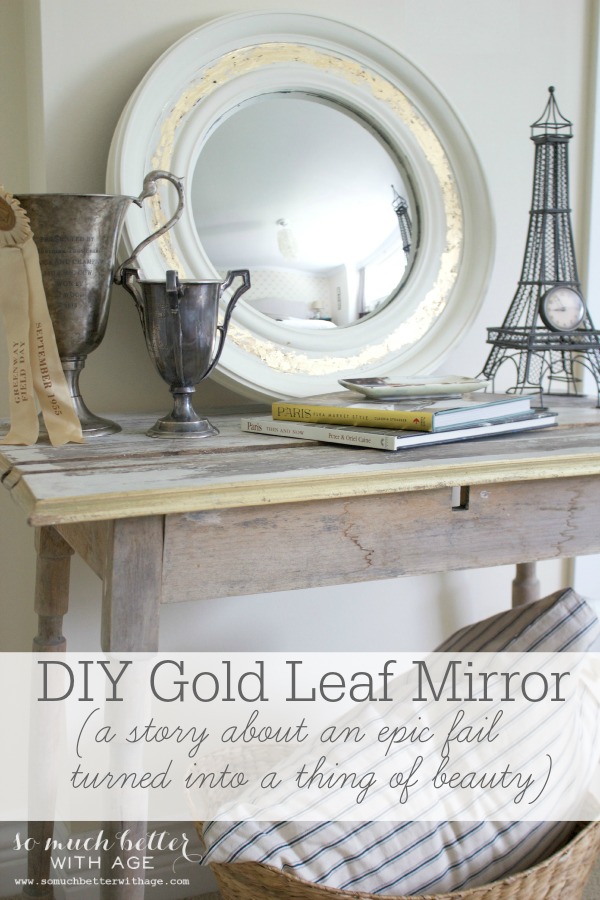 So here is the item I used for today's DIY project. It seems harmless enough. A dark brown wood convex mirror. I've had it for many years and love it.
It's been in nearly every room in my house until one day it made it's way to my crawl space where it stayed.
It was just a little too dark as my floors are really dark in my house.
It needed brightening up.
I thought why not put some gold leaf on the inner circle.
I started with these supplies:
gilding sheets (gold leaf sheets)
gilding adhesive
at least two soft brushes
First, I brushed on the gilding adhesive to about half the area I wanted to cover. Wait a few minutes for the glue to get tacky. It needs to be sticky to touch for the gold leaf to stick.
Press the gold leaf down onto the glue and press into surface. Then gently lift backing up.
The gold leaf should stick easily to the glued surface. Keep pressing down and lifting up all around until the area is filled.
EEK! That's a bit too gold for my liking. Darn it. Now what am I going to do.
You know what? I should have painted it white first. That would have looked much better, white with gold accents.
But first, wait one hour and then brush off with a soft brush the gold leaf bits that didn't stick.
Call in for some help because you didn't think this project was going to take that long!
I used ASCP in Old Linen, two coats.
Once it dries, I wet sanded just the inner circle area to reveal the gold leaf.
I knew that some of the dark wood would show up too.
That's okay! Just add some more adhesive and golf leaf.
Then just scrape off the paint on the mirror with a plastic spatula (use plastic so it doesn't scratch the surface).
And finally my epic fail turns into a thing of beauty!
I love that you can see the bits of dark wood underneath and the different layers of gold leaf.
So needless to say, I'm very happy with the finished results (even if it did take an eternity!)
Thanks for listening and hope you can turn an epic fail into a thing of beauty.

You might also like:
DIY Envelope Pillow Cover Tutorial
Painting Wicker Driftwood Grey