Painting Interior Bedroom Doors Black
It's another week of the #newroomnewyear challenge. We are almost getting to the end, and as each week goes by, it's exciting to see it take shape! This week I am sharing with you the progress of painting interior bedroom doors black using Benjamin Moore's Universal Black. It really gave our flat panel white doors an instant upgrade and is an easy DIY project! There is the video of me painting the doors with this post you can watch. It's amazing how black paint looks like it's a dusty gray until it dries. You can see how I started this project here and my original plans.
Our bedroom doors have been white for the 20+ years we've lived here, I just wanted something really, really different and I was ready for a really big change with black interior doors. I will admit when they were finished, I loved them but the reviews are a mixed bag from the people that live in this house, and I received a remote text from one of our college students who said "Why would you do that, I don't think it will look good." So there's that.
The truth is we have very ugly, hollow core flat panel doors that are original to the house. After almost 60 years, let me tell you, these doors have seen some things. They are even a "little" too short because some where along the way someone must have decided that they rubbed too much on the carpet (after they installed it over the beautiful oak hardwood), and cut them along the bottom about an inch too short (you can see it in this hallway long shot). We have had bedroom doors that are too short on the bottom for 20 years… There isn't much I can do at this point to ruin them so I might as well have fun and give them a glow up.
If painting your doors in place, remove door handles or hardware before painting and make sure to put a drop cloth down.
There are many black paint colors and finishes to choose from. While semi-gloss paint has been a traditional finish for high use areas like doors and trim, a satin finish or eggshell are great alternatives for a more matte black look and less sheen and can hide imperfections.
and I had considered Sherwin Williams Tricorn Black, but ultimately decided on to paint the doors black, I used Benjamin Moore Advance paint. in Universal Black. It's super durable and meant for high traffic uses such a cabinets and doors. I liked Universal Black in a matte finish because I had already used it in our Living room and knew it would lead to a more cohesive look. After giving them a quick sand and removing dust with a tack cloth, I used a super dense flat foam roller and a soft angle brush to paint. It took about two coats three hours a part to apply and let dry. You might ask, is painting them on their hinges the best way to paint them?  No, it's not. What would be best is to take them off their hinges and lay them flat somewhere and paint them over a day or two, but a mom's gotta do what a mom's gotta do. I left the interior door and trim of each door white in the rooms and only painted the hallway side.
I will say that this paint is a little stinky compared to their Aura brand, and I did have to leave the windows open in 30 degree weather for a while. I can't imagine using an oil-based paint and latex paints are definitely "friendlier" to use indoors. This might be a better spring time project for the future. if my doors were newer or more a builder grade doors, I would apply a primer first before the a paint finish.
I absolutely love the way the doors look painted black! While it does make the hallway darker than before, I love the look. It's really dramatic and grounding. I also love our living room painted black as well! The hallway is finally starting to feel like it is intentional instead of a just a pass through area! The wallpaper mural and lighting will be happening this week and next week I'll share the final reveal with you! I decided to change out my door hardware to brass door knobs, but they hadn't arrived yet.
You can see the completely finished makeover here with the painted black interior doors, some fresh decor, new door knobs and all here.
Make sure you visit these other creators who are also working on there New Year New Room Challenge!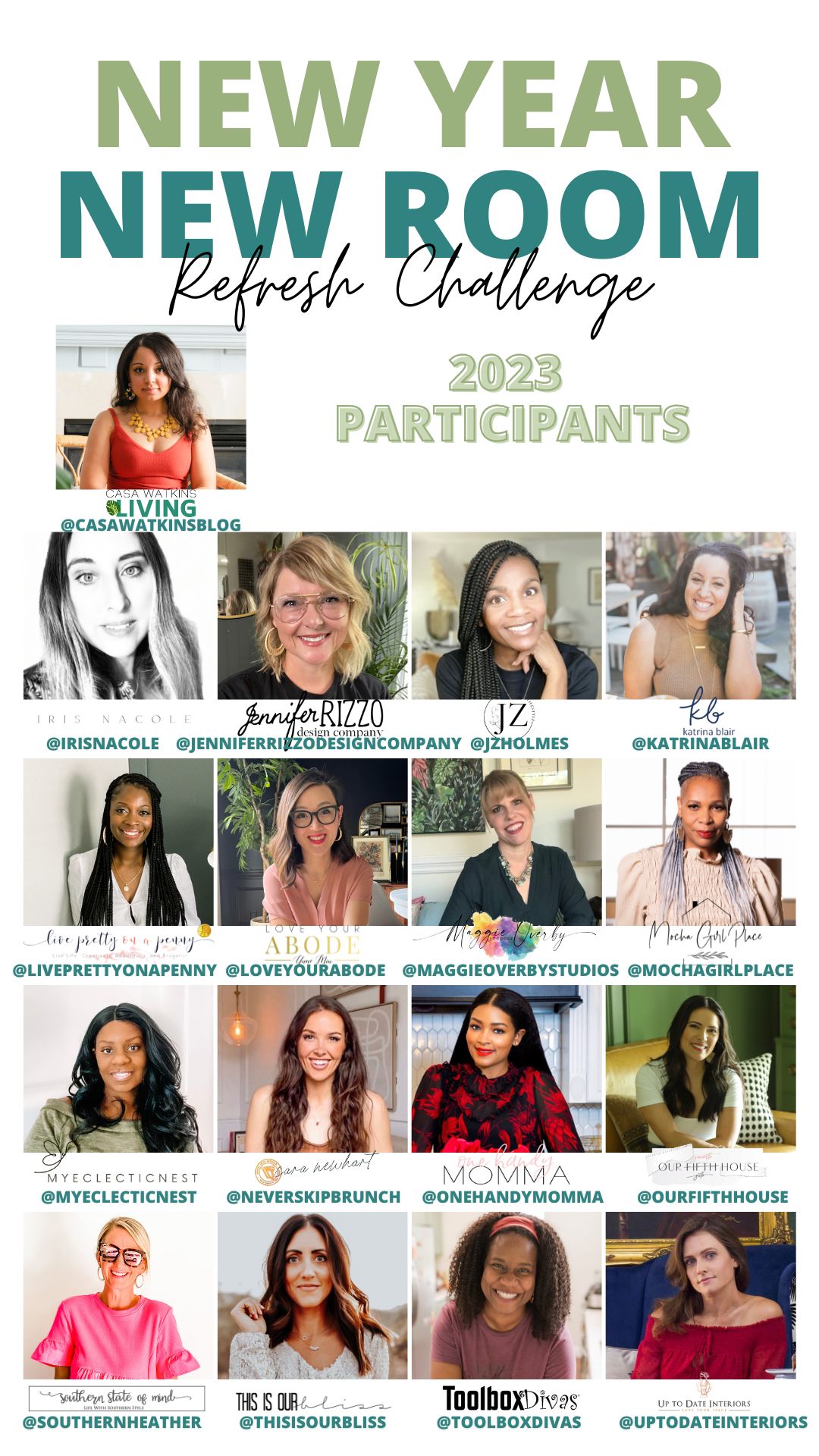 Casa Watkins Living // Iris Nacole // Jennifer Rizzo // JZ Holmes // Katrina Blair // Live Pretty On A Penny // Love Your Abode // Maggie Overby Studios // Mocha Girl Place // My Eclectic Nest // Never Skip Brunch // One Handy Momma // Our Fifth House // Southern State of Mind // This Is Our Bliss // Tool Box Divas // Up To Date Interiors