Upstairs Hallway Makeover Plans
Happy New Year! With a new year comes new projects. One area in my home that has been very neglected is our upstairs hallway. It's been just a pass through for a long time, and one area I haven't really done much too. It's a small area and it's definitely been ignored. It's time to make it prettier with some upstairs hallway makeover plans! I am joining a group of talented creators assembled by Casa Watkins Living to share befores and afters of our spaces in the New Year New Room Refresh Challenge. I'm excited to give this area of our house a brand new feel and look. I'll be sharing my progress each Tuesday in January. I'm hoping I can keep up and finish on time!
This post contains affiliate links. See our sponsor and affiliate disclosure here.
I wanted to share my inspirations and thought process going into the project with you. Many of the changes I'll be making are cosmetic. After the holidays, I need to budget carefully so while I would love to change our old doors, they are going to stay and get a paint makeover for now. We can't always do it all at one time, right?
It's just a normal upstairs hallway. We are lucky to have a decent size linen closet. A few years ago refinished the hidden hardwood and love it so much! Another improvement we made when we had a new roof put on was adding a Solar tube skylight to the hallway ceiling. It was one of the best decisions ever, and I love how it made the hallway less cave-like during the day. Before that we would have to put the hall light on at noon if we were going upstairs to do something.
The easy hallway upgrades in our budget include:
Painting the doors and trim black
Replacing the old light fixture
Swapping out the mirror on the wall
Adding new art?
Painting a mural on the upper part of the wall
Finally finishing the trim I started about 10 years ago that I never quite completed (lol)
Adding a new carpet runner over our wood floors
Here's a peek at my design inspiration board. You can find all of those exact products here. It's exciting to be able to get started and to share the process with you!
I love that large wall art and murals are coming back again. Originally I was considering wallpaper in the upper part of the wall in the hallway, but I had a mural and furniture painting business when I started out almost 20 years ago. I had painted one in my Tuscan style dining room that I loved and I am excited to be able to be able to bring one back in my home again! That makes me torn about adding new art because the mural will be a lot of art anyway. I'll have to see when I get it finished to see if it's something I really want to add. You can visit the other talented creators below to see what they are doing in their rooms!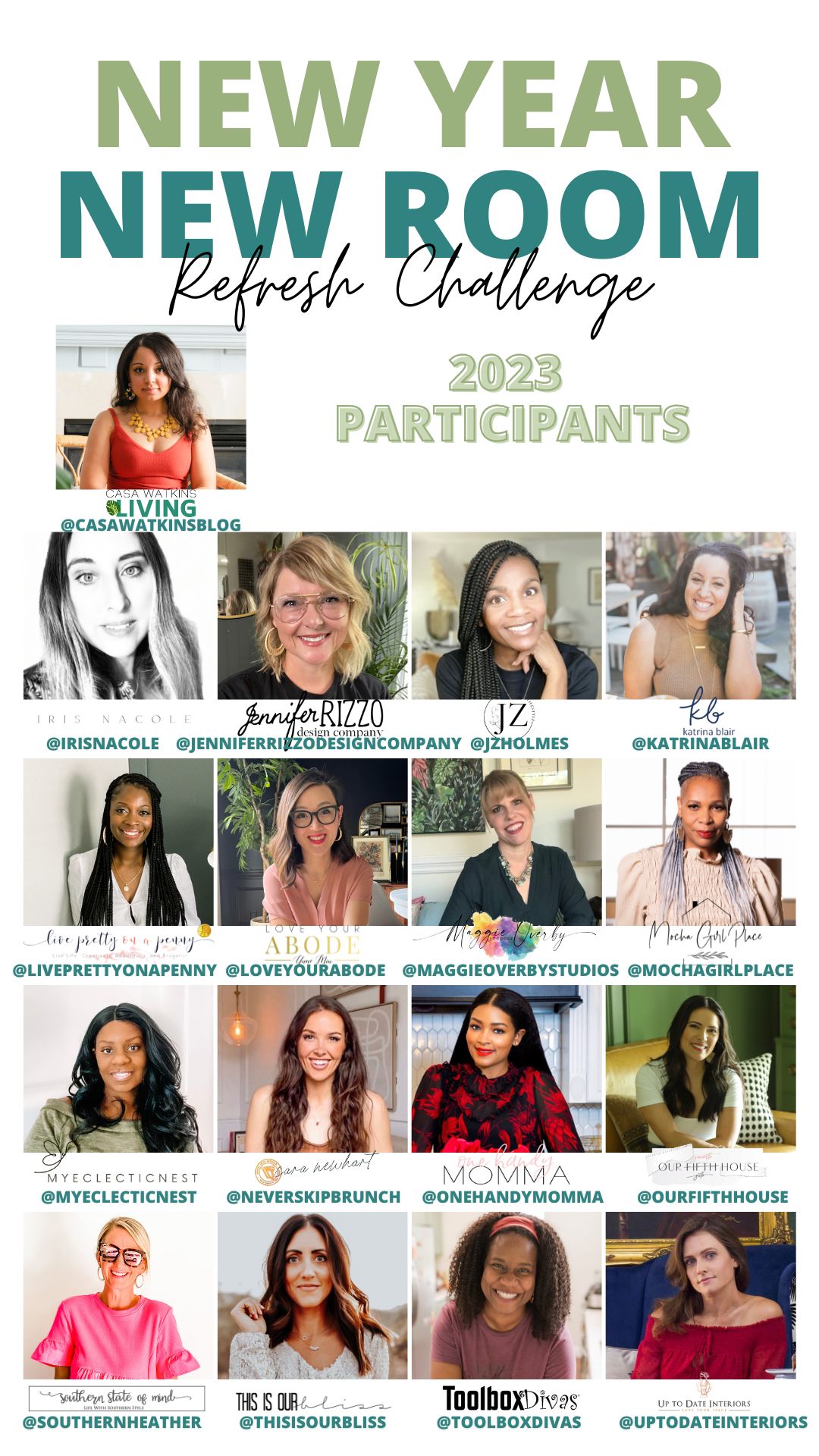 Casa Watkins Living // Iris Nacole // Jennifer Rizzo // JZ Holmes // Katrina Blair // Live Pretty On A Penny // Love Your Abode // Maggie Overby Studios // Mocha Girl Place // My Eclectic Nest // Never Skip Brunch // One Handy Momma // Our Fifth House // Southern State of Mind // This Is Our Bliss // Tool Box Divas // Up To Date Interiors